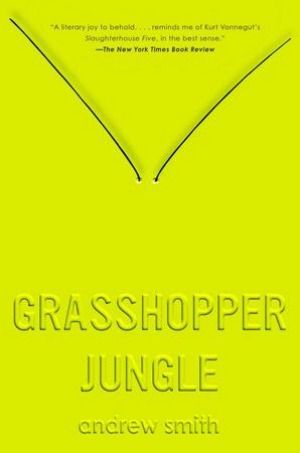 Title:
Grasshopper Jungle
Author:
Andrew Smith
Genre:
YA
This is a doomsday novel featuring 6-foot-tall praying mantises. I'm going to assume you're sold already, but I'll go on anyhow.
Austin keeps journals that record his own history, and that of his family. He happens to also be in the right time and place to narrate the details of the end of the world, which is simply the result of a series of stupid accidents.
Austin has a girlfriend who he loves, but he also loves his best friend, Robbie. Who is gay. And maybe Austin is too. Or maybe not. It's complicated. And there are giant fucking bugs running around eating people, so he doesn't have much time to think about it.
The friendship between Austin and Robbie is the real focus of this book, and it feels very very real. Teenage boys are selfish and smart and horny, and all of that is addressed. The female characters might as well be made of cardboard, but they have relatively small roles.
There are some short interpolated tales centred around Austin's ancestors, and they are incredibly well-written. One tragic love story had me in tears after only a few pages.
So this book has sex (including bug sex), swearing, a bisexual love triangle, lots of humour, and huge bugs that eat people. Clearly, it is a winner. I felt that the ending was too open-ended, but I still loved the book overall.
DEFINITELY read this book
.
VERDICT:
4/5 Brass Knuckles